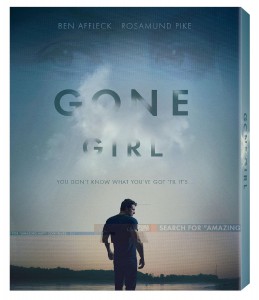 Gone Girl
I'm going to start this review a bit differently. I absolutely hated the novel Gone Girl by Gillian Flynn. The Gone Girl novel was a lavishly praised exercise in cryptic dialogue, high school prose, and incompetent storytelling that defies conventional formula. Unfortunately, you can only defy the formula and get away with it if you are very good. Gillian Flynn just isn't. So, why was I so excited to see the feature film? David Fincher, David Fincher and David Fincher. He is my favorite director in the game right now. I couldn't finish the book because it was written so poorly but the film is a different story. Now what did I think?
First a synopsis:
On the occasion of his fifth wedding anniversary, Nick Dunne reports that his wife, Amy, has gone missing. Under pressure from the police and a growing media frenzy, Nick's portrait of a blissful union begins to crumble. Soon his lies, deceits and strange behavior have everyone asking the same dark question: Did Nick Dunne kill his wife?
I'm still not sure it was a good film. However there were some things that I thought were awesome. David Fincher and his longtime collaborator and cinematographer, Jeff Cronenweth create a dreary, horrific tone for Gone Girl that makes every twist and turn that much more gut wrenching. Every shot is meticulously planned, showing each shot as if it were a still frame that spoke a thousand words. It is truly gorgeous filmmaking. I absolutely love the way this film looked. Affleck absolutely crushes his role, playing a fantastic anti-hero or just bad guy depending on how you look at it. The other standout performance was by Tyler Perry for me, he was fantastic and stole every scene he was in.
Now for the bad.
The Pike fell flat in the third act. She just didn't have that acting chops to make it believable. The metaphors kind of suck and feel like a high schooler dreamed them up. I felt like I was being winked at with the screen writer saying "GET IT??!!!??" And me winking back saying "yes, I get it, let's move on."
The Blu-Ray quality is amazing audio and visual.
Did I mention how good the score is? Because it's absolutely amazing! The commentary is pretty good but that is the only on disc feature. We are also treated to an Amazing Amy book that is a bad irony slap to anyone with a brain.
Overall, I loved the film making and some of the performances. The score really shines and deserves an Oscar. There was good and there is bad in this feature, and I can't really decide if I liked it or not. I'll probably catch it again on TV and enjoy it. Big props to Tyler Perry for carrying the beginning of the second act.
Ratings are based on a 5-star scale
Overall: 3 "plot twists" out of 5
Review by Bro "B" – Ben
We received a copy of this blu-ray for our review. All opinions are our own
Gone Girl [Blu-ray]
 is available on Amazon.com and other DVD retailers.