SOUL CARRIER
A Delicious Line of Beautiful Totes and Purses to Make Your Soul Soar!
Beauty is my addiction.  There is a long list of other addictions not to be mentioned, dear readers, but I am sure you can understand the Shopaholic One!  If I see a purse, or a pair of shoes or a scarf that screams understated elegance, whimsy, is made of beautiful materials, and commands stunning workmanship, I don't look at the price.  I stare.  I go into another state, one that is almost spiritual.  I don't mean this as a slur on spirituality: sometimes, beauty moves me to my soul.  I don't buy the object usually: I just feel … well, joyous.  Addictions are that way.  They take over your soul!
So when I saw the Soul Carrier new line of totes, I was a sucker.  Click!  Into a trance like state of I HAVE TO HAVE it!  And luckily Soul Carrier decided The Review Broads was a good place to send it!!  And I HAVE to wax poetic about this luscious company that makes purses and totes to drool over.
From the Soul Carrier website:
The authentic change
Every Soul Carrier collection is designed with the intention of allowing our products to be a medium for a greater message.  This collection was inspired by the journey of breaking through the noise in your life and becoming who you are. Performing, pleasing, and auditioning can become a way of life even when you know who you are meant to be, but we hope this collection inspires you to take the step to actually live in alignment with the person you are meant to be.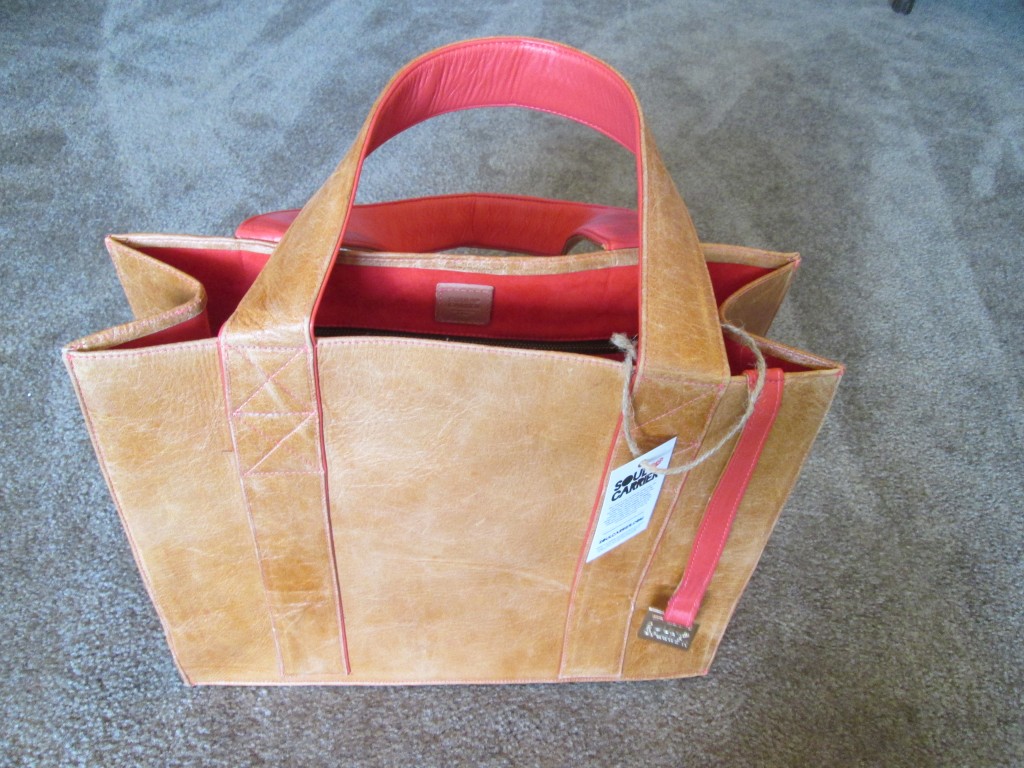 This new,creative, on the edge company offers inspiration in the way women understand: for my purse is my LIFE.  It's my fashion statement, it carries my most undeniable secrets (lover's letters, credit cards that I adore, that old lipstick I cannot live without, my horoscope for the day and even my tarot cards!)  A woman's purse is, well, her soul!  I can be in old comfy jeans, a T-shirt and boots, and yet I always wear a scarf.  AND my  most telling accessory is my purse and my tote.  When I travel, I don't want to carry my Coach purse: it's black, it's too small, and everyone else has the same purse on the flight!  When I travel I am living my fantasy, and I want a tote that says that too!  I want everything: luxurious distressed leather, lots of inside pockets, elegant lines, beautiful stitching, a touch of color and whimsy – and a place to put my cell phone and passport.  I want a touch of a new life and a tote that says "she's THERE!"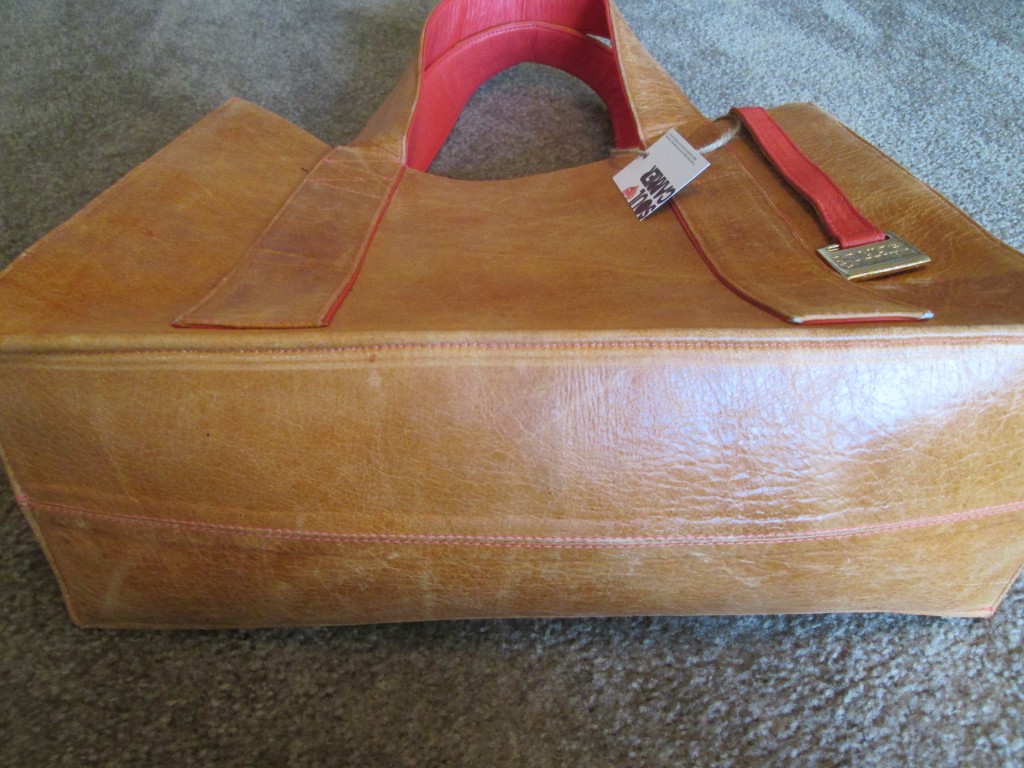 Well, Soul Carrier has outdone themselves.  Each purse is named after a friend of the owner Jennifer.  The Kelly Beth tote is named after an old college friend of Jennifer's, and this tote deserves a name.  It is exquisite.  The leather is soft, supple with a distressed finish that oozes class.  The stitching on the outside is firm, and even. The inside watermelon leather makes me drool!  And the inside has pockets galore, with a strap and clasp attached to clip to your keys, your phone case, or your boyfriend's belt!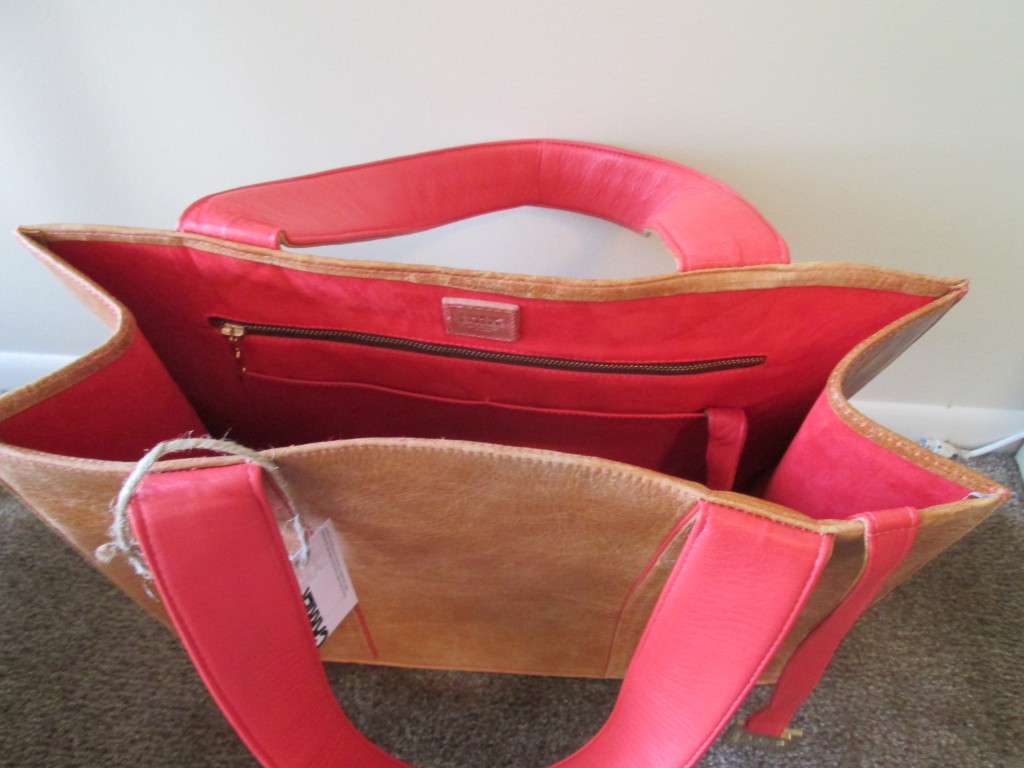 This classy tote with a touch of whimsy shouts ME!  It touches my soul and is so practical along with its beauty!  Here is what Soul Carrier states about their purses and totes and I could not say it any better:
Your soul is your authentic inner core.  It's your unique and true identity, and the foundation for the print you leave on this world.  The Soul Carrier collection is the curation of unexpected textiles, designs and ideas that help you leave that print in the most fascinating way possible.  You carry your life in your handbag.  Carry it in something made with heart and made with soul – and that will turn your journey into an adventure!  SoulCarrier.com
So take the risk..
shuffle out of the norm…
and get into the Soul Carrier mode of being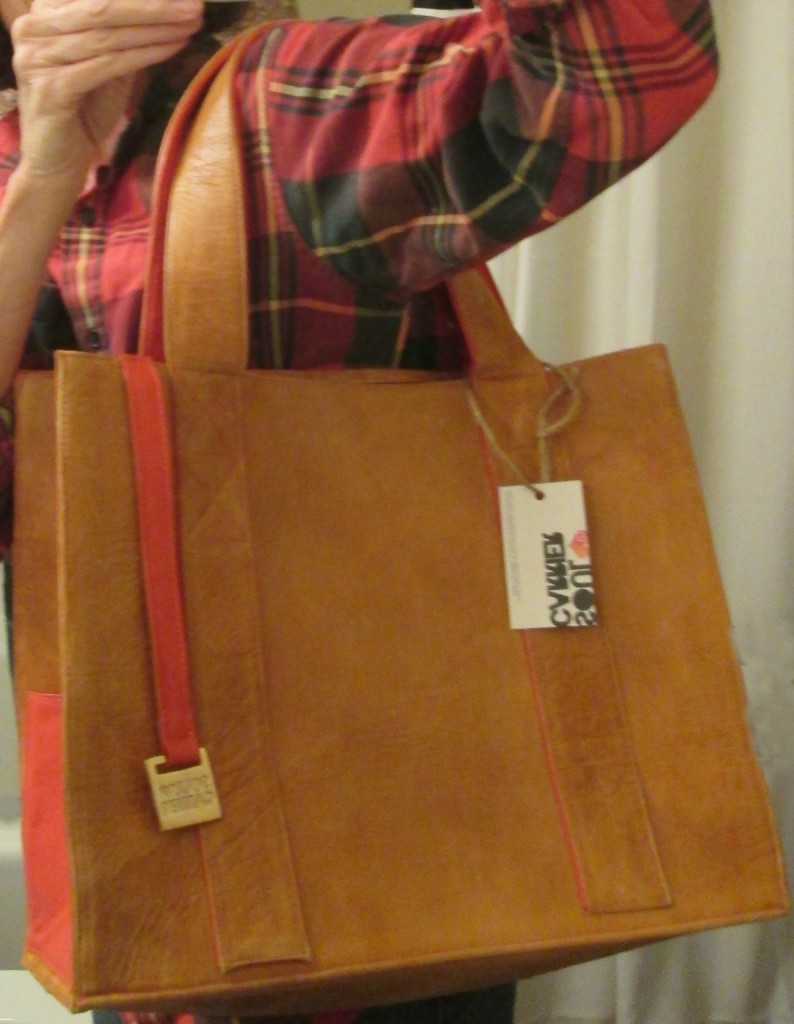 I did!
"There are those people who love you no matter what you do or where you go – geography is never an issue and it feels like no time has passed each time you see them. Their love and support mean everything, and that is who this bag is named after. One of Jennifer's very best friends from college – Kelly Beth. The Kelly Beth is a carry-all for those days you need half your life in your bag or when you want a stylish-carry-on for when it's time to get on a plane and take off. "

The Kelly Beth is handcrafted with love and care in Leon from genuine leather.
Details
16" W by 6.5" D by 14.25" H
Micro-Suede Interior Liner
Key-fob Leash 3 Interior pockets
1 Interior Zippered pocket
1 Exterior Side pocket
Exterior Soul Carrier metal charm
Ratings are based on a 5-star scale
Overall: An Amazing 5+ for this stunning tote
Review by Broad "A" – Ava
We a bracelet to facilitate this review. Opinions are those of the reviewer.
Purchase
The Kelly Beth and other styles of Soul Carrier bags are all available at: SoulCarrier.com
Bag prices range from $80 – $395