I participated in an Influencer Activation on behalf of Mom Central Consulting for Cortizone-10. I received a product sample to facilitate my review as well as a promotional item to thank me for my participation

 OUCH! 
It's summer, and here in Utah it is 100 degrees and climbing!  Since I am an active person, I find myself in the Uintah mountains, hiking, fishing and boating…and Mother Nature finds that annoying!  At a 13,000 asl altitude, the sun burns, the bugs bite and the dry air retains its desert harshness here, and humans are the targets!  Well, I won't give up my fun for itching and scratching.
So – in my backpack goes Cortizone-10, which works on many levels.  It moisturizes my dry skin for up to 48 hours with 3 skin nurturing vitamins.  It cools off that sunburn itch and scratch dance that goes along with summer in the country.  AND those strange rashes that appear when I chase my dog through the underbrush: Cortizone-10 delivers its soothing punch and the redness disappears after one application.  For me, Cortizone-10 is an essential item for the mountains.  And if I was back in Rhode Island, and my beloved beaches, you bet Cortizone-10 would be my faithful companion!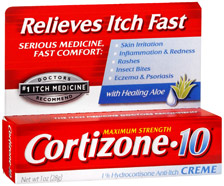 And then the other issues
My son has psoriasis which is painful and ugly all year long. 
No matter what he does, the skin flakes off in patches and he itches and suffers.  Cortizone-10 is recommended not only for bugs, sunburn, and as a great moisturizer, but Alex uses it to control his psoriasis and eczema also.  This fantastic product is a multi-tasker for sure.  So if your family is camping, glamping, fishing, swimming, or just enjoying the Great Outdoors don't let Mother Nature get you down.  Reach for that tube of Cortizone-10 (which comes 1 or 2 ounce tubes) and get down with summer fun!
I dare you!
This extra creamy formula goes on smoothly and relieves itch while healing sensitive skin tissue.
Proven to moisturize for 24 hours with 7 moisturizers and 3 skin nurturing vitamins.
The Intensive Healing formula relieves itching associated with minor skin irritations, inflammation and rashes due to eczema and psoriasis, dry itchy skin, insect bites and sunburn itch.
DO IT! 
Ensure you summer safety and carry along your Cortizone-10 like I do!