Indigenous Designs
I am a screamer for organic cotton scarves from Peru.  My fave store, Sundance Catalog, carries many of these artisan scarves – but my pocketbook cannot afford it!  So when I received this unique hand tasseled scarf in tempting turquoise, I felt like a Queen of Fashion.  Indigenous Designs even attaches a tag that you can scan into your phone to meet the artisan who made your scarf – and travel to the Peruvian village where woman are overcoming poverty with their art.  It's a twofer: artful beauty and economic selfhood!  How could I resist?  I can't.  Here is a picture of my gorgeous hand knit organic cotton scarf (the one in turquoise, from the Indigenous Design website:
And to tell you the story of these absolutely stunning fashions for men and women, I will go to the website itself:
 "The Story of Indigenous An Invitation to Join the Fashion Revolution"
Indigenous commitments are steadfast, even as fashion trends come and go
Supporting and preserving fair trade wages and artisan cooperatives
Investing in natural and organic fibers and environmentally-friendly dyes
Spreading the beauty of handmade, eco fashion
A trip sparks an organic and fair trade fashion revolution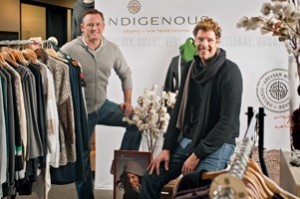 The vision to style the world in organic, fair trade fashion was founded over a decade ago.  On a trip to South America back in 1993  Scott Leonard – co-founder of Indigenous along with Matt Reynolds  –  encountered the priceless beauty of clothes produced by local artisans.  The richness of the culture and the amazing knitting techniques prompted him to bring back more than a souvenir to his Northern California home.  He returned with a vision to pioneer a new business model  that would invite each of us to wear apparel that demonstrates our commitment to the people and environment. Together, Scotty and Matt have helped form a scalable artisan network through the Indigenous clothing line that reflects a commitment to sustainability, social entrepreneurship and responsible actions by consumers and business alike.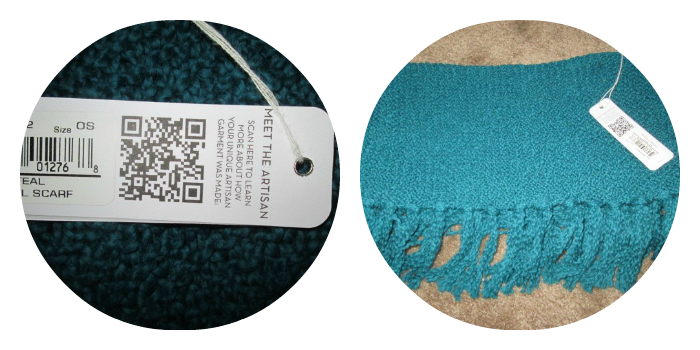 Indigenous has championed supply chain transparency
Scott Leonard and Matt Reynolds, along with their California team, world-wide group of fashion representatives, passionate tribe of style ambassadors and fair trade artisan partners in Peru, have been working tirelessly to transform the fashion industry for the better.   With every step, Matt and Scott strive to transform the often opaque fashion industry into one respected for producing beautiful and trendy clothes through transparent, ethical and eco-friendly methods.
Our path is chosen, we make clothing that honors both people and the planet.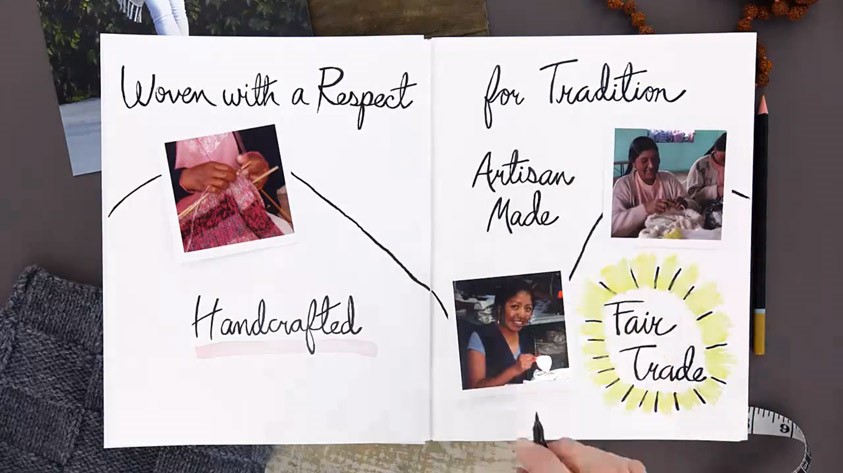 Hand-Woven, handmade clothes
Old world looming techniques are employed in creating our hand-woven garments. Yarn is placed on wooden foot looms, often in an artisan's home work space, where they hand weave our organic cotton fabric as their ancestors before them. The fabric is then taken to our factory, laid out over our patterns and hand cut. From there, an expert tailor or seamstress sews together the entire piece, nothing is produced on an assembly line. This results in a woven garment of the highest quality and fit.
Ratings are based on a 5-star scale
Overall: 5
Review by Broad "A" – Ava
We received a sample product to facilitate this review. All opinions are our own
To purchase one of these scarves visit:  Indigenous Designs
Please follow and like us: