NOURI BARS
Cinnamon Spice, Chocolate and Creamy Cashew and Peanut Butter and Wild Cherry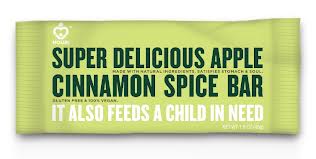 YUM!  Nouri is the new all natural and organic bar for that morning out the door breakfast – or snack.  And the wonderful thing about Nouri Bars:  not just the delightful flavors with molasses and cane sugar and chunks of REAL nuts!  NO!  Nouri Bar is on a Mission to Change the World.  For EVERY NOURI bar purchased, NOURI helps feed a child in school.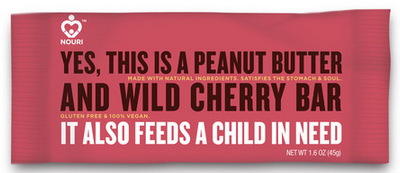 From Nouribar.com:
"Nouri is the best-tasting energy bar on the planet made with 100% real fruits and nuts. Every time you buy a Nouri bar, we provide a hot meal for a child in need. Like you, we're socially conscious foodies leading busy lives. We are inspired by our love for real food, our desire to live our healthiest life possible, and our potential to make the world a better place. Join us on our mission to nourish the body and change lives… one bar at a time."  
How does it work?
Our school feeding provides a hot, nutritious meal each day so children can get the nutrients they need to be healthy. Food is cooked fresh in centralized kitchens and as far as possible, we use locally sourced produce for the meals. This, in turn, benefits local development efforts and supports community farmers. 
How Do We Make A Difference?
A free meal in school means that children stay in school, which will help them escape poverty and hunger. In the poorest parts of the world, school meal programs can also double primary school enrollment in one year.  Every time you buy a Nouri bar, you are nourishing a child + giving them the opportunity to pursue their education. 
Back to the Review Broads:
I only had to take one taste to review these bars, although I wolfed down all three in one setting!  At first, the taste felt different:  different how?  These bars are full of natural ingredients, so there is no cardboard taste residue, no sugar high, no taste bud 'oh it tastes like an energy bar.'  These natural bars do not taste like anything but pure ingredients, with big chunks of nuts, a natural chocolate and peanut butter taste, and they are crunchy yet filling.  I absolutely loved them!  Join Nouri at #epicjourney, Nouribar.com and facebook.com/nouribar to not only try a taste and a tingle, a nourishing refreshing snack and don't forget – best of all, you and Nouri are contributing to a child's nourishment too.  This is an amazing journey for a commercial product and I support it 100%, as I chew away on my morning delight – hmmm, which flavor will I choose for breakfast?
Ratings are based on a 5-star scale
Overall: 5
Review by Broad "A" – Ava
We received product to facilitate this review. All opinions are strictly our own.
For more information about this product