BULLFROG Sunscreen Continuous Aerosol Broad Spectrum SPF 50 Waterproof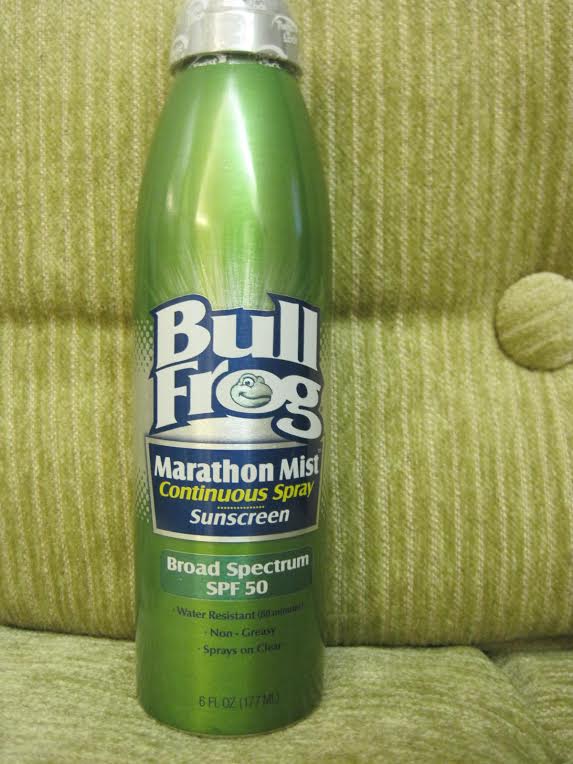 Water Resistant (80 minutes)
non-greasy, sprays on clear
I have that fair Black Irish skin and I live in the desert!  1 + 1 = 2.  SUNSCREEN is a must for me.  I use it daily.  And I have a hard time finding SPF 50 that isn't so greasy that it flows along with the sweat down my face when I hike in the mountains or walk the dogs!
BullFrog Sunscreen was originally made for surfers in Cocoa, Florida in 1985.  And this sunscreen is as tough as the surfers who used it!  From Sun and Skin Care Research, LLC (SSCR) the company manufactures WaterArmor Sport InstaCool, SPF 50, BullFrog Kids Sunscreen SPF 50, BullFrog Marathon Mist (which I am reviewing) and BullFrog Mosquito Coast, SPF 30 with DEET.
Follow these sun protection tips from BullFrog:
Limit sun exposure, particularly between 10 a.m. and 3 p.m. when the sun's harmful UV rays are the strongest and most damaging to your skin
Use a water-resistant, broad-spectrum SPF sunscreen with a value of 30 or higher
Liberally apply sun protection 15 minutes before sun exposure
Reapply every hour as needed, particularly after swimming or perspiring
Your lips need protection, too—use an SPF 15 or higher lip balm
The Marathon Mist goes on very smoothly and does not feel invasive.  All of BullFrog's products are PABA-free, which I really like.  And it works!  For all of us who lead an active sports life, or just like to hike or walk in the sun, or on the beach, this product is an amazing find.
AND the prices are amazingly affordable!  I hate the smell of die hard sunscreens that make me feel like I am drinking a pina colada!  I like odorless!
This is a great stocking stuffer although I like it too much to give it away!  Under my makeup I know I am safe, and my face (and wrinkle free skin) thank you BullFrog!!
Ratings are based on a 5-star scale
Overall: 4.5
Review by Broad "A" – Ava
We received product to facilitate this review. All opinions are strictly our own.
For more information about this product