The Hero of Blind Pig Island and Other Island Stories 
Author: Jimmy Olsen
Here at The Review Broads, we are very lucky indeed.  As I receive pre-published and published books to review, I am able to foreshadow many of the best authors that are writing today.  And that is a joy and an honor.  When I discover a new author who thrills, I shout it out!   Newcomers Kate Atkinson, Megan Abbott – the list is too long to write.  Occasionally, I discover an audacious author whose writing simply thrills me.  Jimmy Olsen is one of these hidden treasures.  Printed by a small publishing press, many of our most talented authors stay hidden.  But Jimmy's last two books, Things in Ditches and Poison Makers are staying in my bookshelf.  I think you will be as thrilled as I am as you read his stories which enveloped me in the trill of a read that sings.  I have never written my own introduction of an author before because The Review Broads generally receives the best selling authors and the best novels to review from the best publishing houses.  So I am breaking the rule – recommendation Number One from The Review Broads for Jimmy Olsen's prior books and his collection of short stories:  The Hero of Blind Pig Island and Other Island Stories.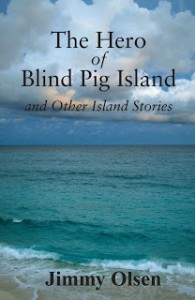 I don't like 'island exotica' in novels, and Jimmy Olsen never falls into that trap; Olsen never damns stereotypes, but creates island worlds where people love, fear, die, hate and transcend the lives they are given.  In these stories, Olsen's love for the islands proves palpable, with prose that pulsates along with ocean swells and island dangers.  Olsen primes us, and then ignites the engine as he spins tales of scuba divers, Santo Dominicans, and islanders who reach outward from the vortex of his plots.  The beauty of Olsen's vision presents not a culture clash of North Americans versus islanders, but the steady pulse of continuity, of people invested in "home".  Olsen captures the real, and the authentic. Like Faulkner, the setting remains his own, while his characters prove universal.  And that is a true author.
In Reservado, Laura and her grown daughter Megan, her husband Kim and their two little girls have returned to Santo Domingo because Laura has insisted.  A younger Laura lived in Santo Domingo for 8 years; now in her senior years, she has things to remember.  One ghost in particular claims her fancy:  her first mature love, when Laura first came to Santo Domingo with a job at the Embassy.  She is a widow now, and Megan is impatient with her, and hurt that Laura wants to go out alone instead of touring with her family.  But Laura persists, and takes a cab directly to the site of the restaurant that was "hers" and her lover's special place, the Versailles.  Now the Versailles is a carapace located in a strip mall, leaving only its ghostly presence.
But it was here that Laura last saw Jack, a scuba diver who owned his own diving business as Laura pursued her important position at The Embassy.  She remembers the girl she was, jumping into her convertible without opening the door, flouncing her gorgeous hair in the wind, enticing adventure.  As the novel flashbacks to Laura and Jack's last meeting for dinner at the Versailles.  They come here so often that their waiter, Monolito can read their minds. Jack toys with Monolito being Dominican, and Monolito loves it, although it drives Laura crazy.  Laura speaks fluent Spanish while Jack prefers his own language at all times.  The intimacy of Monolito and The Versailles envelop this last meeting and the end of their relationship:  Jack has sold his scuba business; Laura will not leave her prestigious job.  Her father was a diplomat and she will be too.
In prose that speaks of Hemingway's minimalism in many ways, the tension mounts, they are at a stalemate.  The word marriage comes up – Laura says they would never make it, as she also tells Jack he is the only man for her.  Jack reciprocates.  And then they remember the event that holds them close, bonds them so deeply – Laura's first dive with Jack.  The event turns out to be a deathwatch, as their boatman leaves Laura, Jack and the four French tourists who are on the boat behind 10 miles out in the sea due to the Frenchmen's' rudeness to the boatman.  As the Frenchmen defy Jack's precise instructions for survival, to get them all back to land safely, he and Laura find themselves faced with death.  But Laura knows she is safe and that she and Jack will make it.
Youth, commitment, career combine to destroy one moment in time where two people find themselves truly in charge of each other's fate,  and yet they throw the moment away, precious as it is.  The older Laura faces her decision as she looks in the dusty window of a defunct restaurant in her old age, and we realize decisions made and unmade pivot our lives and define our hidden and shown selves in one moment of realization and truth.
If I had enough space I would review all of these stories; each unique, each a fragment of artistry all its own.  Loved the collection!  Read it three times!
Ratings are based on a 5-star scale
Overall: 5
Review by Broad "A" – Ava
We received a copy of this title for our book review. All opinions are our own
The Hero of Blind Pig Island and Other Island Stories
is available on Amazon.com and booksellers nationwide
To find out more about Mr. Olsen visit his site: JimmyOlsen.net