What's a Woman Without Her Shoes?
XOLO Tennis Shoes for Children and Women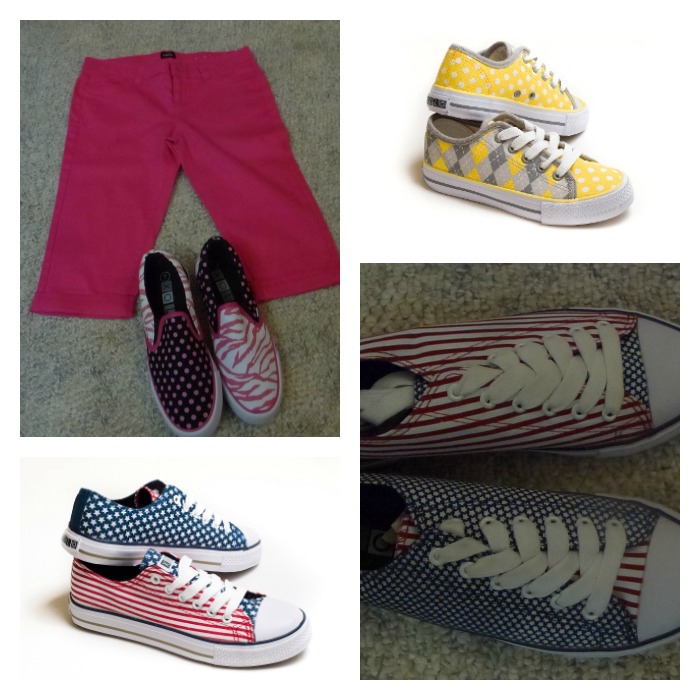 Libby, my 12 year old granddaughter, is the diva of shoes.
It's genetic:  I am a shoe hoarder! 
I can't resist the whimsical, the different, the newest, the coolest…Libby gets it from me.  And Libby is definitely a free spirit – a woman child who knows her own style and mind and doesn't hesitate to express it!  And Libby loves a good shoe!
When I saw XOLO tennis, I thought what a great idea! 
Ed Hardy is over the top, and Gucci is too prissy, but XOLO has a new design and idea that simply appeals to me!  With their mismatched/matched fabric tennis shoe line, kids and women can let it all out – and be their own individual!  I wish I had thought of it first!
Their Fourth of July tennis are not only patriotic – they're FUN!  And what is fashion except FUN?  Great sneaks, great peaks at XOLO – check out their backpacks and new line of sneakers coming soon:  your kid will be the cheekiest on the block!
Affordable, absolutely comfortable and well made, XOLO tennis have my heart!
We love new ideas here at The Review Broads – who wants normal? – so here they are:  XOLO shoes!
XOLO is the brainchild of maven Pam Val, owner of Pam Grace Creations. Having spent several successful years in the baby and children's bedding industry, Pam knew that she had a passion for children's design. She enjoyed creating bedding and room decor in a wide variety of colors and patterns to make every child feel at home in their own space. So why not take it one step further? Why not allow kids to celebrate and express themselves not just in their room decor, but also in their clothing and accessories? And so XOLO was born.

Kids are often told "no" when they attempt to express themselves creatively. Pam wanted to give parents a chance to tell their children "yes!" Yes, you can wear mis-matched shoes!
Ratings are based on a 5-star scale
Overall: 5
Review by Broad "A" – Ava
We received product to facilitate this review. All opinions are our own
For full details about purchasing XOLO Shoes check out: