The Oranges
I will watch just about anything with Oliver Platt and Alyson Janney.
This has driven me into seeing plenty of less than great movies. However, I am always willing to give them a chance. These two actors have given some memorable performance in their careers. The benefit of the doubt has always givien me a hit or miss situation from the big hit in The Ice Storm for Platt or Janney's performance in Juno that gives me hope that they can turn around any film or character. The combination of these two amazing actors should have spawned me an amazing film, but did it? First a synopsis!
The film focuses on the relationship between two Jersey families.
On the one hand, we have David (Hugh Laurie) and Paige Walling (Catherine Keener) who have two children: Vanessa (Alia Shawkat) and Toby (Adam Brody), and then we are introduced to their neighbors, the Ostroff's, consisting of Terry (Oliver Platt) and Carol (Allison Janney). Terry and David have been best friends for a long time, and their families get together often. The Ostroff's have a daughter named Nina (Leighton Meester) who decides to return home after five years for the Holidays. Her presence will change things when she falls in love with David. The two begin seeing each other and it has a tremendous effect on both families. Nina convinces David that there are no rules to happiness, but at the same time his decision affects everyone around him. When Paige finds out about this relationship she confronts David and soon everyone's life is affected by this relationship.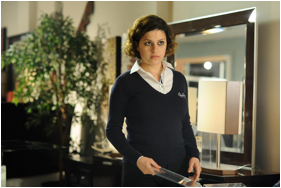 Unfortunately, the movie is a big yawn…
…without any big laughs or dramatic beats this movie took 3 sittings to get through. The movie panders to one of men's ultimate fantasies; that being that cheating is okay if everything, in bizarro world, works out in the end. I will say that the acting was very good but I think that the performances are wasted on a screenplay that is too contrived. This story has been done to death and it has been done better.
I did enjoy the soundtrack.
I thought there were numerous continuity issues that should have been picked up prior to this showing. Does no one in Hollywood know what New Jersey would look like in late November and December? Trust me – there would be no leaves on the trees or emerald green lawns.
Honestly, I didn't even bother to watch the special features.
The real special feature is that Laurie and Meester have absolutely no chemestry, though they get more nauseating as their systematic destruction of their family relationships continue. This is the biggest snooze of the year. Nuff Said.
Ratings are based on a 5-star scale
Overall:  (that's right…it's blank)
Review by Bro "B" – Ben
We received a copy of this title for our book review. All opinions are our own
The Oranges [Blu-ray]
is available on Amazon.com.