It's A Food Revolution!  What's A Girl PET To Do??
MERRICK PET CARE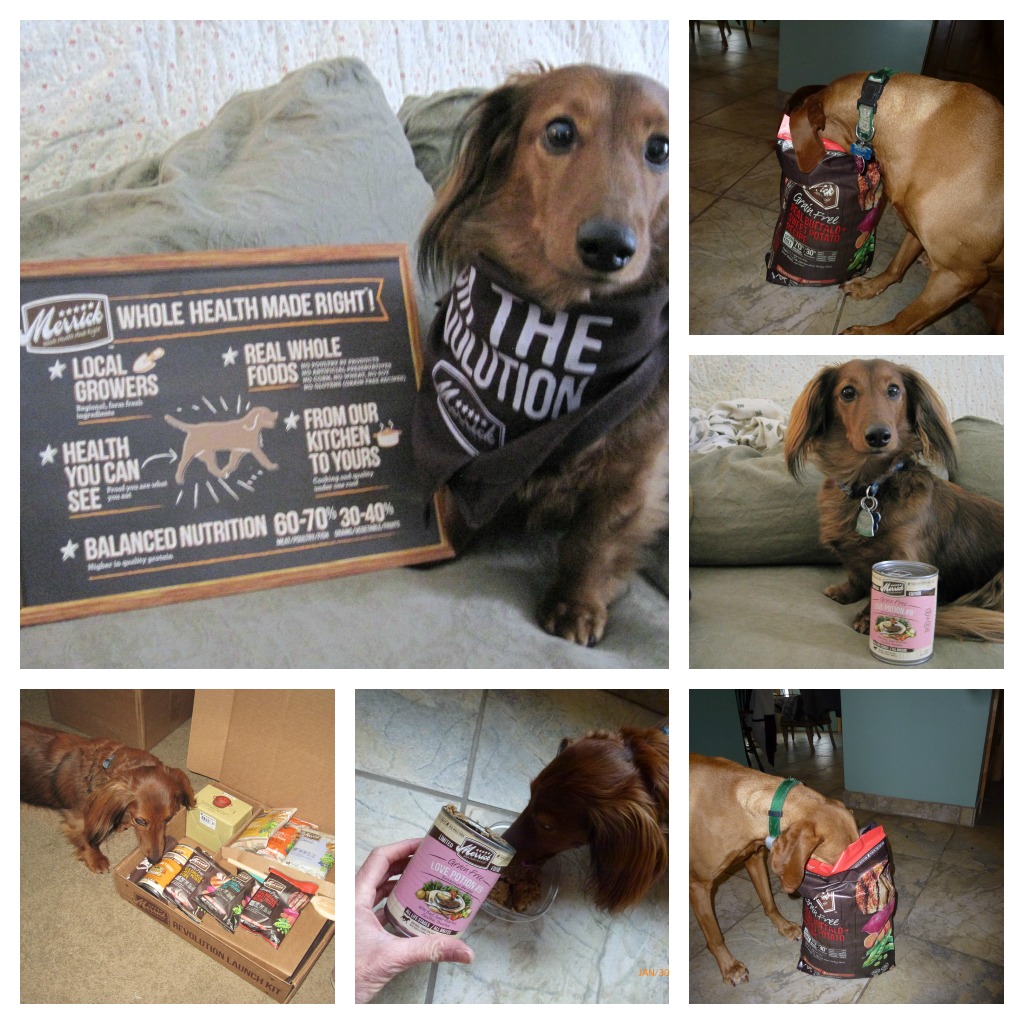 When Z calls and tell me what her mini-bull terrier CLEM is eating, I always start with the dog food advice.  Yes, I am the dog food police! 
I have been a passionate and informed dog food nutritionist for over 20 years.
When I have my own dog boutique in Barrington, RI, I made up containers of Dr. Pitcairns' homemade raw food diet for customers because I was WAY ahead of the times.  This was 15 years ago.  My bouvier des flandres, Savannah, was not thriving on kibble and so I set forth on the BEST DOG FOOD odyssey that anyone could!  I have a Ph.D. in dog nutrition!  I had worked for Central Garden and Pet as a team manager selling dog food – Pedigree – and I quit when I started researching holistic foods and nutrition and realized the ingredients in Pedigree were well – YUCK.  I tried Wellness, which back then was a small Massachusetts family business.  When it sold out to a corporation, I tried – well, everything.  When I moved to Utah, Savannah passed away at 5, and somehow I KNEW it had to do with nutrition.  Remember, 15 years ago, there was no indicator on dog foods, everyone fed Kibble and Bits or Pedigree.
I started working at the best dog nutrition store in Utah and a little long haired dachshund wandered into my life.  He was so sick the vet didn't think he would make it.  So I started feeding him something different every month: Origin, Arcana, Honest Kitchen, commercial raw food, Innova – you name it I bought it.  Unfortunately, while these are top of the line foods, CLEM (yes, I stole Broad Z's name for her dog) WOULD NOT EAT THEM.  He was a picky little snot, my Clem.
Now, dog food ingredients are a BIGGEE in the nutritionist's array of weapons against ignorance. 
My dog is my LIFE!  And our customers were just as interested in organic, locally bought, NO CHINA ingredients, and REAL meat ingredients as I was.  Also, manufacturing facilities were another biggee, as manufacturing facilities are where the recalls of dog foods come from.  When you have a large facility churning out 5 -10 different brands of dog foods, there is no quality control, and with no quality control, you get RECALLS and dog deaths.
I saw that Merrick poured out of the store by the case. 
Merrick is unique.  They are still family owned (very important, as I don't want a Proctor and Gamble company producing my food along with other grocery store brands).  They have their OWN facility in Texas with fantastic quality control.  Their ingredients are LOCALLY bought, fresh ingredients, they have an Organic certification, their first four ingredients are meat and meat protein and they have a grainless line (I feed grainless).  I went online to dog food research lines, and 3 out of three named Merrick one of the best foods out there.  My Bible is The Whole Dog Journal, and Merrick has always come up high on the list.  AND THERE HAVE BEEN NO RECALLS of any Merrick canned or bagged DOG FOODS.
The best thing though? 
Clem inhales their foods.  For the first time, he could eat real bones that had been pressure cooked and were safe to eat (NEVER FEED YOUR DOGS CHICKEN BONES – Merrick processed them to be edible but we cannot!).  Wing a Lings became a favorite, along with Turducken, Grammy's Pot Pie, Cowboy Cookout, Wilderness Blend, a Venison Stew – and now Merrick has come up with 11 NEW recipes, including Classic and Grain Free:  the CLASSIC with a balance of 60% meat/poultry/fish, 20 percent meats and vegetable and 20 percent whole grains (in the Classic only).  The Grain Free recipes contain 70% meat/poultry/fish and 30% fruits and vegetables.
Brown rice, pea protein and sweet potato are in many of the new recipes.  NO SOY< CORN or wheat, NO ARTIFICIAL PRESERVATIVES, no filler.
The canned recipes have deboned meat added as the first ingredient. The dry recipes (kibble) have all changed and are grain free.
And since I change up Clem's flavors every time I buy food, Merrick offers many different protein sources:  PORK, CHICKEN, SALMON, BUFFALO, DUCK, BEEF.
This review could go on for 30 pages, as you all know how I am when I discover a product that delights me both intellectually and nutritionally.  I am one of those who ONLY does organic, and holistic, for myself and my darling dog.  All I can tell you is that Clem is BONKERS over Merrick, and Merrick fulfills all of my very picky needs for a premium, top of the line, nutritious, ingredient safe, and PALATABLE food for Clem.
Check out Merrick at www.merrickpetcare.com.  Please! 

As you can see, Clem is manging down on the new Buffalo and Sweet Potato kibble (he would never eat kibble before) and HE ADORES the seasonal flavor Love Potion #9.  Me?  Clem is happy and healthy.  Therefore I AM HAPPY and HEALTHY.  Thank you Merrick for revitalizing your food to add new and better ingredients with excellent quality control!  Did I say they are certified organic?  Did I tell you that they BUY LOCAL PRODUCE and MEATS?  Did I say – well, although I LOVE the older Merrick recipes, I ADORE the 11 world class recipes that are under the Classic and Grain Free Brands for top results.  Merrick is an innovator and I trust their food.  And That's a Biggee for Me!!!!!  (REALLY!)
Merrick Pet Care products are available at Petco and other fine retailers.
Ratings are based on a 5-star scale
Overall: 5 stars and a woof from Clem and Ellie as they attack the Merrick new recipe kibble, grain free buffalo and sweet potato (see pics!!).
Review by Broad "A" – Ava
We received a copy of this title for our book review. All opinions are our own.
Please follow and like us: