All of The Review Broads have ONE thing that binds us together.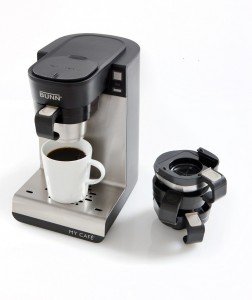 No – it's not family (although Broad Z & Bro' B are related)
No – it's not friendship (although Broad A & Broad Z are besties)
No  – it' not our love of books (that's Broad A)
No – it's not the NEED to review everything that comes our way – REALLY?
It's coffee
COFFEE?
Years ago when I met Broad A in a dog park, we bonded our friendship over trips to the coffee shop. We went there to laugh and cry. When we visited each other the first thing we did was brew a pot and sit down to talk. When Broad Z & Bro' B do ANYTHING together – it begins with an iced coffee (well, even if Bro' B is ALONE it begins with an iced coffee).
Whether we were sharing secrets, crying over major issues, or just catching up on girltalk – The Review Broads' lives have always revolved around coffee. So, when I heard about Bunn's new My Café that's 4 machines in one – I said
BRING IT ON!
I'm VERY familiar with Bunn. Having owned 3 Steeple St. restaurant in Providence, among others, Bunn not only provided us consistently great, hot coffee each and every time…but, since we offered a full menu of coffee drinks with liqueurs, it was a mainstay of our bar business as well.

Why the My Café ?
Before I received Bunn's new do-it-all My Café I had
a drip coffee  maker
a K-cup brewer
an old pod coffee brewer (stored under the counter)
a teapot – on the stovetop
That's a WHOLE lot of counter space (and storage) that I was able to clear away.
The BEST PART
It's a BUNN! You get the quality that Bunn is so well known for in a single cup multi-use brewer. Whether you're want a K-Cup of Dunkin' Donuts, some of your favorite just ground Jamaican Blue Mountain, a cup of Earl Grey, or just need some hot water for a cup of soup on a cold winter day, this machine does it.  I've even used it for some hot water to add to my hot Kashi cereal in the morning.
When I first started in the coffee business I learned that the KEY to making a GREAT cup of coffee was a combination of
Use FRESH coffee – I grind fresh, use sealed K-Cups, etc.
filtered water (I have a cooler for that)
HOT water – the My Café heats the water up to 200° – the PERFECT temperature
The time that the coffee and water have contact – the My Café brews in less than a minute (so, there's no bitterness)
As an added bonus, the jet action makes sure that the water is sprayed on the coffee EVENLY, for the BEST flavor.
 

4-in-one
Cup Drawer – Brew your favorite K-Cups® andK-Cup® compatible cartridges
Ground Coffee Drawer – Holds up to 20 grams of ground coffee for café quality results
Pod Drawer – Works with a wide variety of compostable soft coffee and tea pods
Hot Water Drawer – Quick hot water for instant coffee, oatmeal, gelatin and more
While this would make a GREAT GIFT for any coffee lover – PERSONALLY, I'd say take that gift card you get for Christmas and GRAB one of these. You won't be disappointed.
You've only got a WEEK left to shop. I checked out where to buy this MUST HAVE coffee maker, so head out to
Target
Sears
Kmart
Lowe's
Dillard's
Macy's
and more
Find a location near you > HERE
Ratings are based on a 5-star scale
Overall: 5+++++
Review by Broad "Z" – Zippy
I received product to facilitate this review. All opinions are strictly my own.