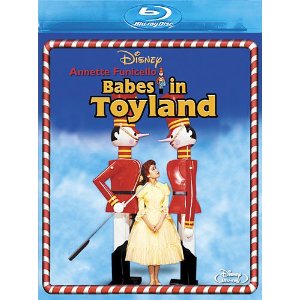 When I requested this for review I for some odd reason believed I was going after the 1986 Made for TV movie starring a young Drew Barrymore and Keanu Reeves.  I remember it being very bad and going through some old clips it would have been a good laugh.
I mean look at this (from 1986)
However a few minutes into the Blu-ray of Babes in Toyland, a key fact presented itself:  I had never seen this movie.  I obviously cannot read because if I could, I would have realized very early on that this was a 1961 Walt Disney movie.  I found myself surprised when a long, light and enjoyably choreographed dance number opened the film and I'm sure it wouldn't be the last.  Yes, this is a Musical.
Now THIS is the one we're talking about!
Let us pussyfoot on over to the synopsis!
Based on Victor Herbert's 1903 operetta of the same name, the story focuses on a small town filled with a plethora of classic Nursery Rhyme characters complete with an introduction by Mother Goose.  The beautiful Annette Funicello as Mary Contraryand her fiancé Tom Piper (Tommy Sands) are enjoying the eve of their wedding in town with song and dance but all is not well.  At the same time, far above the town, the rich miser Barnaby sets events in motion with dastardly plans to kidnap Tom and force Mary to be his wife.  He hires two goofball henchmen to carry out his desires who, as one would expect, screw it up and we're lead on a fantasy journey through "The Forest of No Return" and a final battle at Toyland.
Barnaby, played by Ray Bolger, who was the original Scarecrow in Wizard of Oz (!), plays our classic moustache twirler.  He's super goofy and breaks the fourth wall; I got a Vincent Price vibe from the character the whole time.  Everyone loves a super-rich guy with a stovepipe hat and a purple satin cape trying to steal people away right?  Barnaby is conniving with a lot of sharp, despicable edges.  He wants to put Tom into a coma and drown him at sea but there's such a charm to the way Barnaby "pussyfoots" around CONSTANTLY, it softens the guy and makes him more enjoyable to watch.
The comic relief villains of Gonzorgo and Rodrigo are clearly a copy of Laurel & Hardy. I enjoy them, they're merciless but goofy.  One can't really sing and the other doesn't talk at all, he pantomimes all of his actions and has a penchant for violence (he mimes killing Tom, multiple sheep and knocking out kids).  They've got a lot of slapstick gags that are really quite fun.   The duo even try to screw over Barnaby for a bigger pay day by selling Tom to gypsies, which by movie logic will immediately come back to bite them.  When Tom disguises himself as an old fortune teller, gypsy-woman during a big song and dance number the transformation is quite impressive and his performance is effective.  Everyone in the movie just looks like they're having a fun time with the material.
Unfortunately there might be one too many Lullaby styled songs as the movie put me to sleep around the hour mark and I had to back track and start again.  There is definitely some bloat to it, shocking for a movie that runs only an hour and forty-five minutes.  There's a scene with the children looking for lost sheep in the forest that feels like it will never end, one of many that just drag on and on.  Then the incredible Ed Wynn shows up as The Toymaker, which is especially awesome since Alan Tudyk homages Wynn's voice for King Candy in Wreck-It Ralph.
The movie instantly picks up steam in the last few minutes once Wynn arrives. He really jumps into the cartoon logic the movie works on.  His pre-broken clown toy is a simple gag with an excellent payoff.  He had so many one liners, riffing them off when he's frustrated dealing with his genius inventor assistant Grumio. Wynn sells all the enthusiasm of this self-centered bu joy filled Toymaker as he continuously takes credit for, destroys, then blames the assistant's inventions.  The final battle with the march of the toy soliders is some really impressive stop motion work.  It's simple and the rear-projection never really clicks but it's got a ton of heart. Director Jack Donohue and Walt Disney worked very hard to make a live-action cartoon.
Musicals aren't always my cup of tea;
I enjoy some of the big names: Singin' in the Rain, Wizard of Oz, Mary Poppins, Beauty and the Beast (Even if Ben has his reservations about that one), a lot of stuff with Fred Astaire.  I'm generally surprised that the well-made classic musical has become such a rarity and that Hollywood doesn't produce more.  There is zero realism or grittiness to them but musicals can be colorful and a lot of fun, they're crowd pleasers.  Maybe it's just our generation of sub-ironic-post culture that doesn't allow for the simple pleasure.
The picture quality on the Blu is gorgeous. It's not greatly sharp, it has a soft focus but the Technicolor look is so vibrant and beautiful that the Blu-Ray really shows off.  There is so much color and detail on the quaint, obviously fake sets.  The sound on the other hand is quiet, muted at times; it just feels odd for something that should be boisterous and fun.  A lively musical should be loud but it's balanced enough, never peaks and some of the cast can really belt out a tune… others sort of talk their way through it.  It may not need to be said but Annette Funicillo has an incredibly sexy singing voice.
Outside of preferred language and scene selection this sis such a bare bones disc that it's laughable.  Was there really NO supplemental material to be found for this movie?  One can assume this is an almost forgotten gem but due to its history I doubt it.  This was Disney's first live-action musical, it failed theatrically but they went on to find success with Mary Poppins.  Someone out there could have put together an interview, some behind the scenes footage, artwork, anything really.  A shame, as I was intrigued to look into the production after viewing the film.
Some additional notes:
– "Oh look Rodrigo, a Gypsy camp! Gypsies ay? I've heard it said that Gypsies buy babies, I wonder if they'd be interested in purchasing this fine, strapping youth." Oh Gonzorgo, you have such a way with words.
– "He tried to bite her." the creepy kid said deadpan while spying on Tom courting Mary.
– "Go to your room and invent something to destroy yourself" – Ed Wynn, the best.
– Gonzorgo and Rodrigo have the obvious change of heart and choose to help Tom and Mary, almost instantly forgetting Barnaby now has a shrink ray in possession that he used not seconds ago. They instantly get shrunk down and never see it coming.
Babes in Toyland [Blu-ray] is available through most retailers.
Review by Bro' J –  Jonathan Killoran
I received product for our review. All opinions are my own
Please follow and like us: