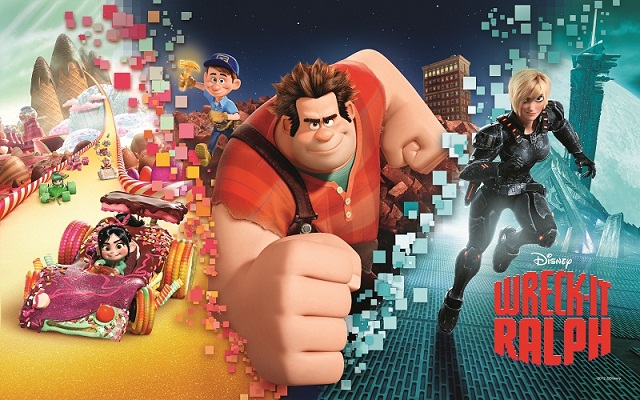 How often do we become dissatisfied with our job? When did it become a burden, a chore?  You just wake up one morning after so many years of hard work only to realize that you're unfulfilled.  That you're no longer living the life you thought you would, performing the same tired routine of a job day after day.  Now, can that idea of unfulfilled promise create a reasonable story with a videogame character?  I'm here to say yes to all of you old school stand up arcade lovers!
Wreck-It Ralph (John C. Reilly) is the villain of a game he's tired of playing.  For thirty years he's been thrown down into the mud while Fix It Felix Jr. (Jack McBrayer) is championed with a medal.  As the film starts we see that Ralph lives life sad and lonely in a dump separated from the rest of the game when it's not being played.  He has meetings with other classic videogame villains, Bad-Anon, to look within and accept that this is the role they must play, the bad guys although that doesn't mean they're "bad" guys.  Ralph is ultimately a program with an existential crisis; he no longer accepts his life and wonders if he could possibly be more. Not necessarily a desire for good but mainly a dream of acknowledgment and reward for his actions.
The movie kicks into high gear when Ralph chooses that it's his time to shine and abandons his game in order to prove his self-worth.  Unfortunately this decision comes at a cost as Ralph starts rampaging through games, unleashing mass chaos and upending the rules of the arcade and the danger of getting his game unplugged when it becomes "Out of Order."  Ralph eventually finds a kindred spirit in a glitch character, Vanellope Von Schweets (Sarah Silverman), in the hyper-colorful racing game Sugar Rush.  She is shunned by the other programs, worried that she'll cause harm and ruin the code but Ralph slowly takes a shine to her. This character could have been annoying but naturally she grows on you and Silverman is able to find the right voice to sell the more sincere moments.
All of the different animation styles from the 8-bit of Fix-It Felix Jr. to the High Definition CGI world of Hero's Duty are top notch.  The action is propulsive and exciting and there's a variety of comedy to take away from it.  I know I was laughing just as much as the kids during a screening.
The voice acting was great, no one ever outgrows their welcome and even Jane Lynch playing Calhoun makes her usual style of tough, aggressive female seem fresh.  The movie is also a who's who of classic arcade game characters hanging around in the background or sharing a drink at Tappers, you'll have fun on repeat viewings just trying to see who you can pick out.
Though we unfortunately get bogged down in Sugar Rush for the last half of the movie and don't get to explore the many other game worlds in the arcade, that's fine because the movie is more about the character's finding out who they are meant to be.  The creators seem to have channeled their videogame love into a truly heartfelt story wrapped in a blanket of nostalgia.  That's the secret of what makes Wreck-It Ralph work, tons of heart.  All of the cool, old and new videogame characters that pepper the background of the worlds would be nothing but something nice to look at if the story and characters didn't create an emotional through-line for it's journey to be invested in.
For Ben's sake I'll suppose I should give it a rating out of 5 with a quip so…
Ratings are based on a 5-star scale

Overall: 4.5  New Highscores! out of 5
Review by Bro' J – Jonathan
BONUS LEVEL: Mention must be made of The Paperman, an absolutely gorgeous short film that plays before Wreck-It Ralph in theaters.  It is the story of a lonely paper pusher in New York who has a chance, love at first sight, meeting with the girl of his dreams.  After discovering she works in the building across the street, he uses his imagination and some fancy flying to win her heart. The short combines 3D graphic techniques with hand-drawn 2D animation, merging the two, in order to more resemble a classically drawn style like in Disney Animation's heyday.

I've seen a few shorts this year but I believe The Paperman will be the front runner for Best Short Category, if you care about that kind of information.  If you don't care much for awards season, you'll be happy to know that it is a marvelously crafted piece of art that is breathtaking to see.  The passion in the animation style is palpable and allows the emotions of the characters to overflow from the screen.  It's brilliant.
This is not a comped or sponsored post. All opinions are strictly our own.