PUTUMAYO KIDS CD
Music and dance are something my grandchildren are great at, and I love it too.  Whenever Putumayo puts out a new children's CD I slap myself onto Amazon and hit the SHOPPING CART button.  You just can't get better than Putumayo!
I love Putumayo children's CDs as they are always something that my grandkids listen to as we tool along in the car; and they are great for me also, as I want my children to enjoy diversity with fun songs and music.  Not only that, I sometimes forget that I need to have fun too, and Putumayo World Sing A Long has songs that I heard as a young child, and adored.  I remember going to see Bridge Over the River Kwai as a small child with my Mom, so Waltzing Matilda has always been one of my favorite songs.  La Cucaracha is a class also.  I absolutely loved That's What Friends Are For, and my grandchildren sang along in the car.  While this is not the BEST of Putumayo kids (I have quite a few of their CDs), I would have to say that the mandolin, xylophone, percussion, bass, and instrumentals along with old song lyric favorites had me entranced.  Putumayo has a line a children's coloring books also that continue to entrance my children and introduce them to the differences – and sameness – of many cultures.  All in all, I find Putumayo ALWAYS puts out a great CD for children and parents, and bouncing in the car, I find a bond with my kids, and kids all over the world, that I would not trade for anything.  One of the best companies out there for children's CDs, Putumayo always hits the perfect mark.
Putumayo World Music will contribute $5,000 from sales of World Sing-Along during the period October 2012 through October 2014 to Population Services International (PSI) in support of its Five & Alive® campaign to ensure that all children have a healthy start to life, no matter where they are born. For more information about PSI, please visit www.psi.org.
 The songs on this CD include:
Also available is this AMAZING Children of the World Calendar from Putumayo: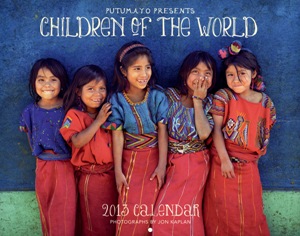 Putumayo is also pleased to offer its first photography calendar,Children of the World, featuring images of children from Africa, Asia and Latin America by renowned photographer Jon Kaplan. Ten percent of Putumayo's sales of the calendar (available October 1st), will be contributed to Seva (www.seva.org), a nonprofit organization which builds sustainable health programs that serve vulnerable populations around the world and help end preventable blindness, that has restored eyesight to more than 3 million people.
For these and ALL of Putumayo's wonderful products to to – Putumayo.com
Ratings are based on a 5-star scale

Overall:  5
Review by Broad A – Ava
We received product to facilitate this review. All opinions are our own.