Age Fighting Serum
EYES! My eyes, to be specific, are sagging, both over and under. I don't especially hate the sag yet, but then, once a sag begins, watch out, there are more coming! Like Z, I am not especially fond of aging, so when I look in the mirror, I dodge! I'd rather not look!
Coward that I am, I am not going to just sit and avoid mirrors. After all, Z and I are women of action, right? I should just scare out some botox injections, but honestly, my cowardly genes just can't imagine putting something INSIDE my face – yhew! (Check me out next month, readers; we have been known to change our minds.
But as for now, I'm still trying product to get rid of those double lids. When I received Ratio Eye Serum in the mail to try, I realized that I would have to look in the mirror to try it, so I bit the dust.
The remarkable healing properties of shiitake and reishi mushrooms, also referred to as "the elixir of life," are among the few rich organic sources of germanium, a natural oxygen efficiency booster that aggressively fights the aging process. This joins with the latest matrikines, which act as cell messengers signaling an increase in collagen production as well as vitamin K to decrease dark circles under the eyes.
Ratio goes on under your eyes for the baggies and saggies, right under your makeup. It works, and does tighten the skin, at least for the time it is on. I haven't used it enough to see if there is any permanent change, but I'm not holding my breath either. I'm a realist! I do love that there is no "tightening" feel with Ratio and I love the all natural ingredients (I know, how many times have you heard this, but I mean it).
The secret to RATIO is the "Special Blend."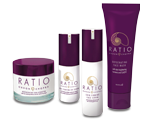 According to Ratio literature, "the golden ratio is an organic constant found in nature, and it is visible in the perfect lines of a nautilus shell," explains Doctor Andrew Ordon, who founded the line with partner Dr. Ritu Chopra (I bet you recognize these names from the hit show The Doctors!).
So now I've got all kinds of oils on my face, as well as the perfect lines of a nautilus shell,  I figure something might just work! I will let you know if the mirror doesn't crack, but for now at least I am LOOKING in the mirror and FOR TODAY I look MUCH better. Wish it was lineless, but what the hey, a girl's gotta take whatever she can get!
Ratio Eye Serum has shitake mushroom extract and wrinkle reducing matrkine peptides. The full ingredient list can be found on the Ratio website.
Benefits and Active Ingredients (from the Ratio website):
Palmitoyl Tetrapeptide-3: A matrikine combinate to recreate conditions conductive to cell and matrix turnover. Matrikines are small endogenous peptides derived from matrix proteolysis. They act as cell messengers to regulate the sequence of events required for skin repair. This peptide has been shown to reduce the mean depth of wrinkles and their volume.
Shiitake Extract: Boosts collagen and elastin production to create a firmer appearance
Bamboo Extract, Glucosamine HCI & Pea Extract: A potent mixture rich in powerful peptides that dramatically reduce appearance of wrinkles. Natural exfoliation gives your skin a smoother, sexier look
Reishi Mushroom Extract: Wonderful effects on the skin as it helps to increase the delivery of nutrients to the skin. It also helps control acne and minimize fine lines and age spots.
Ratings are based on a 5-star scale

Overall:   I give Ratio Age Fighting Serum a 3 until I wear it longer. Even then, I'm happy with just being able to look in the mirror and see a better me!
Review by Broad "A" – Ava

We received product for this review.. All opinions are our own.
Please follow and like us: